KRIŽEVO – star pastirski praznik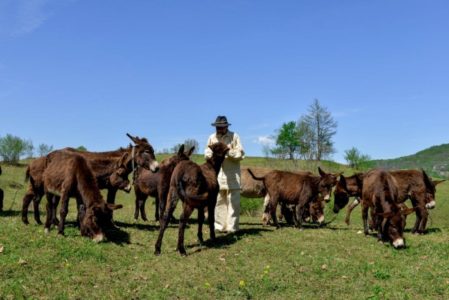 Letos je praznik Gospodovega vnebohoda – dan ko je od mrtvih vstali Kristus dopolnil zemeljsko delovanje in odšel v nebo 30. maja. Gospodov vnebohod je poleg velike noči in binkošti eden izmed najpomembnejših krščanskih praznikov, poznan že konec 3. ali v začetku 4. stoletja.
V Beli krajini ta dan imenujemo KRIŽEVO in hkrati je to tudi star pastirski praznik. Ta dan se praznuje pričetek paše – čeprav se je s pašo pričelo prej  – vsaj za Jurjevo, če ne prej. Šege belokranjskih pastirjev na Križevo je že pred stotimi leti opisal Janko Barle (duhovnik – tajnik Zagrebške nadškofije, botanik in zgodovinar, ki je otroštvo preživel v Podzemlju v Beli krajini) in nekatere so še vedno v navadi, so se pa od nekdaj nekoliko razlikovale po vaseh.
Pastirji so se križevega vedno veselili, saj je bil to eden redkih dni, ko so se zagotovo do sitega najedli in včasih tudi napili. Več dni pred praznikom so pripravljali kurjavo za kres  in neredko se je zgodilo, da je druga skupina pastirjev ponagajala in jim kres prižgala predčasno. Že na predvečer praznika so poleg drv pripravili še jajca, mast, okrak (kračo), slanino, mladi sir (skuta), boljši kruh (po možnostih beli kruh), krožnik, ponev in tudi pribor. Vse za pojedino na pašniku. Predvečer pred križevim je bil tudi zadnji dan, ko so še pokali z biči in trobili z rogovi – da bi odgnali coprnice. To so počeli vse od Jurjevega. Običaj so najdlje ohranili v Tribučah, kjer so ga izvajali še po prvi svetovni vojni. Praznovanje s pojedino pa se je ohranilo še v 70-ih letih.
Zjutraj je bil na vrsti najprej »maščevalni obred«, če so bili morda v sporu s sosednjimi pastirji. Že nekaj dni pred križevim so pozorno poslušali, kje bodo slišali kukavico, in ko so našli brezo, iz katere je kukala, je moral eden izmed njih skrivaj trikrat obkrožiti drevo in odluščiti del lubja. Pastirji so nato vzeli tri klopotce (postarana neužitna jajca), dodali nekaj drobtinic svojega kruha ter vse to z lubjem vred še pred sončnim vzhodom zakopali na poti, po kateri sosednji pastirji običajno ženejo na pašo. Tem naj bi potem zaradi tega vse leto živina bezljala!
Potem so sedli k ognju in pripravili zajtrk. Vsako jajce so na obeh straneh preluknjali in ga izpihali na krožnik (kot to počnemo za pisanje pisanic). Jajca so nato dobro stepli in vlili v ponev z razbeljeno mastjo, da so spekli slastno cvrtje. Vse to so naredili še pred sončnim vzhodom – ko so se jim na paši pridružili tudi njihovi mlajši bratje in sestre, ki so prignali drobnico in krave – te na križevo niso smele biti na paši pred sončnim vzhodom, saj bi jih drugače lahko coprnice molzle celo leto!
Nato so odšli starejši pastirji k maši, mlajši pa so pasli živino. Popoldne pa se je začela prava pojedina, ko so navadno "pekli šnite" – ocvrte kruhove rezine. Vsak pastir je moral imeti s sabo svinjski okrak, kruha in vina. Pastirji, ki tega niso imeli doma, so navadno to dobili od večjih gospodarjev, ki so se jim oddolžili s kakšno drugo uslugo. Šašelj 1906 leta piše, da so pri revnejših družinah pastirju za ta dan včasih celo kupili vino in okrak. Že zjutraj so poleg kurišča zapičili ošiljeno brezo, ki so jo skoraj do golega oklestili, na njej so pustili le štrclje, na katere so nataknili izpihane jajčne lupine, da se je daleč naokoli videlo, koliko jajc so ta dan pripravili! Ker je bila živina ta dan na najboljših pašnikih, so se lahko igrali pastirske igre in gostili. Neredko se je zgodil kak komičen ali tudi bolj neprijeten dogodek, saj je bilo ta dan vsega v izobilju, tudi vina … in nevajeni pijače so uganjali toliko večje norčije.
Nekoliko drugačno navado so imeli Viničaki. Tam so tekmovali, kdo bo zjutraj prvi prignal na pašo. Ta je potem smel zakuriti kres, ki so ga pripravili dan prej (tudi v Adlešičih je bil običaj pripravljanja kresa in njegovo straženje, da jim a ne bi drugi pastirji zažgali). Ta je bil potem to leto »kralj križev«. Tisti, ki je prignal ta dan živino predzadnji je postal »lončegloja«, zadnji je pa bil to leto poimenovan kot »pepelmera«.
Vse praznovanje je imelo namen, da bi se pastirje nagradilo že za vse leto vnaprej – da bi dobro pazili živino in bi bilo čim manj »zapaskov« (popašene škode). Drug mejnik pastirjev so bili vsi sveti – 1. november. Od takrat se na živino ni več pazilo, da ne bi šla v škodo – paslo se je vse povprek. Kdor do takrat pridelkov ni pospravil si je bil za škodo kriv sam. V Adlešičih so še v začetku 20. stoletja imeli navado, da so takrat pustili na pašo tudi prašiče.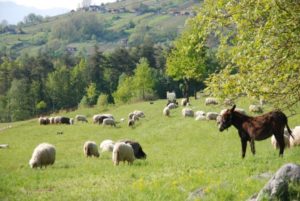 Avtor: Boris Grabrijan