Adlešičan dopolnil 98 let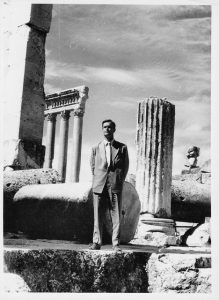 Na Markovo – 25. aprila 1920 se je v Adlešičih rodil Marko Račič
Marko se je rodil v adlešiški osnovni šoli materi Kristi in očetu Božu, ki je bil tisti čas nadučitelj v Adlešičih. O pečatu, ki ga je Božo Račič-Kume pustil v Adlešičih, pa tudi v vsej domovini smo pisali za lanski božič, ko smo obeležili  njegovo 130 letnico rojstva.
Marko se je z družino leta 1925 preselil v Ljubljano kjer je oče dobil pomembno službo; a z Belo krajino je ostal vedno povezan. Nenazadnje je bil pozneje v Črnomlju (1942-1943) tudi zaposlen kot vlakovni odpravnik na železniški postaji.
A Marko ni postal znan zaradi svojega pomembnega očeta, pač pa zaradi lastnih zaslug in uspehov. Zelo zgodaj se je zapisal športu – atletiki.
V svoji karieri je bil Marko atlet, trener in funkcionar ter predavatelj in publicist. Od desetega leta je bil član viškega Sokola, nato Ilirije, Hermesa, Udarnika (pozneje preimenovan v Olimpijo). Po koncu druge svetovne vojne se za 20 let preselil v Beograd, najprej zaradi študija (Fakulteta za šport – DIF), nato pa je treniral v Študentu in Partizanu, naposled pa delal še kot trener v vojaškem klubu Partizan. Leta 1953 je bil poslan na trenersko specializacijo na Švedsko, po vrnitvi postane reprezentančni trener za štafete, nato pa v šestdesetih letih še zvezni kapetan ženske reprezentance. To je bilo prav v času velikih uspehov Vere Nikolić – evropske prvakinje na 800 m in Olge Gere – srebrne skakalke v višino. Med pomembnimi uspehi tistega časa je ženska sprinterska štafeta: Olga Šikovec-Draga Stamejčič-Zdenka Kolenc-Nada Simić, ki je bila na evropskem prvenstvu v Beogradu 1962 četrta, kar je še vedno najboljši dosežek katerekoli jugoslovanske in slovenske štafete.
Marko je pričel športno udejstvovanje v Sokolu kjer ja bil poudarek na gimnastiki, čisto slučajno so njegove tekaške rezultate opazili v Iliriji in ga povabili k sebi. Že na prvem tekmovanju (prav na svoj 17 rojstni dan) je, čeprav brez treninga – zmagal. Ker se dijaki razen v Sokolu niso smeli športno udejstvovati je nastopal pod psevdonimom ČIČAR (Račič vzvratno). Njegovi športni rezultati so postajali vse boljši; višek športnega udejstvovanja pa so olimpijske igre. V Londonu je nastopil v dveh kategorijah: tek 400 m in štafeta 4×400 m.
Za jugoslovansko reprezentanco je nastopil 15-krat. Na 100 in 200 m je 4 krat osvojil naslov državnega prvaka, 7-krat je bil najboljši v štafetah. Je 20-kratni rekorder na 200 in 300 m ter 18-kratni v štafetah.
Marko je svojo življenjsko zgodbo s pomočjo Rajka Šugmana (nekdanji dekan Fakultete za šport), opisal v knjigi  »Na krilih atletike«. Uredila  jo je hčerka Mojca, oblikovala vnukinja Maruša, založil pa Javni zavod Krajinski park Kolpa. – Ker je bilo to potrebno, a tega nista storila ne Atletska zveza Slovenije niti Olimpijski komite Slovenije. Zanimivo življenjsko zgodbo velikega atleta lahko podrobno spoznate v tej knjigi.
Markova največja skrb ta trenutek je vozniško dovoljenje – zdravnik mu ga je namreč pred tremi leti podaljšal le za pet let; torej do 100 leta. Kaj pa potem? Trije še živi Račičevi otroci (poleg Marka še Nada in Marija Rajka) so stari 90+ in vsi z veljavnimi vozniškimi dovoljenji.
Marko Račič, uspešen atlet – najstarejši slovenski olimpijec; udeleženec olimpijskih iger v Londonu 1948 leta, žilav kot pravi Adlešičan.
Še na mnoga, zdrava leta Marko!